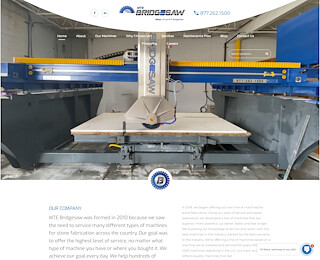 Our company was started in 2000 after we saw the need to service stone fabrication machines. Our objective was to offer the best service no matter the type of machine you own. As we grew, we diversified and became bridge saw manufacturers. We assist fabrication shops to grow by offering them the best quality saws.
Longevity in Business
Our aim is to offer exceptional service so you can keep coming back. Whether it is for CNC maintenance, repair needs, or purchases, we are your go-to bridge saw suppliers. We know maintenance, repair of machines is neither fun nor convenient, and we are determined to make the process as seamless as possible. We pride ourselves on customer retention. Our first-time customers have continued to remain our long-term clients.
Reliable and flexible
We are available and ready to offer our services anytime, be it weekends or holidays. You can call us for repair or inspection, and we will be in your location within an hour. Our maintenance van is well stocked to make repairs or do services without having to go back to our workshop. We are honest and reliable because we are committed to doing it right. Check out our customer reviews and put us to the test.
Expertise
Our market experience of many years has allowed us to expand our operations and establish our brand of bridge saw machine for sale. We have created a line of power tools that are powerful, superior, last longer, and cut faster. By combining our knowledge of repair and service, we have been able to identify issues that other saws have and correct them while making stronger and long-lasting saws. We have over 1000 machines operating and a track record that speaks to the quality of our power tools.
Guarantee
In the many years of business, we have maintained quality services, which continue to offer customer satisfaction. All we want to do is ensure your machines are running smoothly so that you can make money. Our extensive expertise helps us to offer quick and professional solutions.
When you buy a machine from us, we take the time to explain to you how to operate it. We guide you on how to do essential maintenance and how to use the tilt tables. We advise you on the best products according to your production needs.
Warranty
We understand that buying a bridge saw is a considerable investment, which is why we offer you an extended warranty. Depending on the brand, you can get a warranty of up to five years. We only deal with superior brands so that you may get the most out of your investment.
We understand that not every client can purchase a new saw, so we are your go-to used bridge saws for sale near me store. Contact us today and let us sort all your bridge saw needs.
Please contact BridgeSaw to learn more about us, our machines, and our services. We serve all of the United States, Canada, and Mexico: 877-262-1500
MTE BridgeSaw
8772621500
1301 Continental
Abingdon MD 21009 US