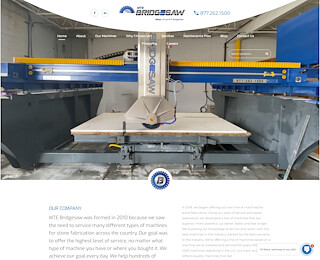 The process of cutting stones into the required sizes and shapes is a difficult task. It is however a very important task as the raw materials are needed in the construction and other major industries.
The bridge saw is a vital machine used by rock fabricators. The process of purchasing a bridge saw is an equally important task as the success of the entire cutting depends largely on it.
As a result, some crucial factors should be considered before buying a bridge saw. You must make thorough findings of the bridge saw manufacturers, and be sure they sell only quality equipment, have good references, and are genuine.
Used bridge saw can also be purchased provided that it is in excellent condition with all its parts replaced. More precautions should be taken when you want to buy a bridge saw to guarantee a satisfactory purchase.
Four Reasons To Buy Used Bridge Saw From Us
These are some of the reasons why we are the best option to consider when purchasing a used bridge saw;
Budget-Friendly
We have budget-friendly price rates for our customers. We are fully aware of the fact that a lot of stone fabricators choose to buy used bridge saws to save cost.
We work with our client's budgets and ensure that our packages are economical and budget-friendly.
High-Quality Equipment
Our bridge saw machines for sale are of the best quality. During the normal process of stone fabrication with a bridge saw, the machine parts begin to degrade naturally due to constant use.
This is one of the reasons one has to be very selective when purchasing used equipment. All the components of our used bridge saw machines have been replaced and refurbished.
We have automated and upgraded used bridge saws that perform excellently, last long, and carry out every designated duty.
Installation, Maintenance, and Repair Services
After purchasing the equipment, we can also help to properly install the bridge saw. It is advisable to get the help of professional technicians for the installation process so that every component will be properly placed and stationed.
Periodic maintenance is also important in preventing the breakdown of equipment. We provide routine maintenance of bridge saws to ensure the proper functioning of the components and prevent unnecessary halt of operation.
In a situation where repair service is needed, we have a team of experts that specialize in proper bridge saw repair. Our installation, maintenance, and repair services are timely and efficient.
The Best Customer Service
Our customers are our most important assets and we treat them as such. We have excellent customer service and provide our customers with the necessary assistance.
Our customer's service include;
Timely response to feedback, observations, and questions (such as where can I purchase the best used bridge saws for sale near me)
We coordinate the movement of bridge saws in the event of relocation.
We provide needed bridge saw parts from our warehouse or our network of bridge saw suppliers.
We make the entire process of buying a used bridge saw seamless. With our customers having access to nothing but the best services. Contact BridgeSaw to learn more about us, our machines, and our services. We serve all of the United States, Canada, and Mexico: 877-262-1500
MTE BridgeSaw
8772621500
1301 Continental
Abingdon MD 21009 US