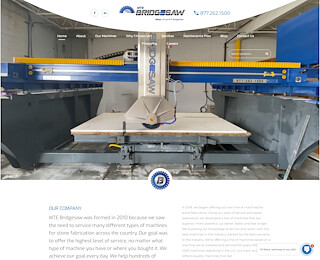 The bridge saw is a very important piece of equipment in the granite industry. A bridge saw is useful in cutting ceramics, granite, stone, marble, and some other natural stones.
It is usually used as a secondary cutter after using diamond blades to perform the primary sawing. Like other heavy-duty industrial machines, the bridge saw can get faulty or breakdown completely.
Users can sometimes stall the repair of the machine due to the cost of repair and the process of getting the best repair advice and services. Putting off a repair will affect the cutting activities, the more time the machine is faulty, the more the reduction in productivity.
This can lead to fewer orders being completed and results in production reduction by bridge saw manufacturers. Fixing the bridge saw when faulty is highly unnegotiable. We have made it easy to get access to the best bridge saw repair services to prevent the production activities from being affected.
Four Reasons To Call Us For Bridge Saw Repairs
We understand the need for timely and efficient repair and how it affects the industrial process. Our repair services include:
Prompt Dispatch of Technicians
Getting the right repair service to report at the right time is very scarce. We provide prompt responses wherever we are needed.
We have expert field technicians in considerable numbers that are immediately dispatched to render field services. Our clients are rest assured of getting their bridge saw repairs done at the right time.
The production process is not affected because we fix everything in no time.
Phone Support
Sometimes, our clients need answers to some technicalities concerning their saw bridge machines. We have well-informed phone support technicians available to support our clients when the need arises.
Affordable Services
Being able to work with our client's budget is one of the amazing reasons to work with us. We deliver excellent bridge saw repair at affordable prices.
One of the reasons industries postpone getting their faulty bridge saw fixed is due to the price implications. We have designed our repair packages with our client's budget in mind.
Our clients get their money's worth and are not overcharged.
Customer Support Services
Our customers are our biggest priority. We have provided a system that accommodates the needs of our customers.
We advise clients when they want to buy a bridge saw
When industries need a fresh batch of machine supplies we connect them to bridge saw suppliers and credible sources that have bridge saw machines for sale.
We give answers and provide insights to questions our clients may have such as; where can I get used bridge saws for sale near me? Are used bridge saws a good option? What are the price ranges of getting a good bridge saw?
We also give maintenance tips and techniques to our clients. Our staff is fully dedicated to providing every form of support to our clients.
Your bridge saw repair is in capable hands, we ensure that everything is done properly and the machine can continue its normal activities. Contact BridgeSaw to learn more about us, our machines, and our services. We serve all of the United States, Canada, and Mexico: 877-262-1500
MTE BridgeSaw
8772621500
1301 Continental
Abingdon MD 21009 US