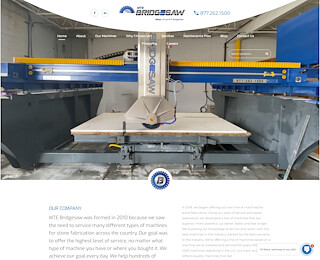 When purchasing bridge saws, parts, and machines. It is very important to ask questions that will ensure that the appropriate decision is made.
There are also bridge saw upgrades that have been designed by bridge saw manufacturers to ease the use of the machines and achieve smoother work operations.
Commonly Asked Questions
Below are some of the commonly asked questions when buying from bridge saw suppliers.
Is It Possible to Program the Cutting Process From Start to Finish?
There are high-technology bridge saws that do not require any manual effort. The entire project can be programmed from start to finish.
An example is the Diamond 3 Bridge Saw, which has a fully programmable computer, that requires manual interference only when the next project is being programmed.
What are the Important Parts of the Bridge Saw Equipment?
Every part of the bridge saw is important. The proper functioning of each part affects the overall experience.
The tilting table, bridge, and beams, water system, saw blades, motors, all contribute to the overall effectiveness of the bridge saw and should be considered when you want to buy a bridge saw.
Are there any Bridge Saws that Have Little Contact with the Water System?
Yes. It is a known fact that continuous contact with water can contribute to rusting and weakness of machine parts. There are bridge saw machines for sale that have been designed to reduce the contact of the machine parts with water.
The Diamond 8 Vertical Edge Polisher is specifically designed to keep the motors away from water contact. This has contributed to the durability of the motor and other working components. It also has touch screen control features that make it easy to use.
Can I Get a Table that can Rotate by Itself?
Yes. Moving any part of the machine can get tiring. Getting an automated bridge saw table is a huge welcome.
The Hydraulic Table is an automated bridge saw component, it can undergo a 360-degree rotation at the touch of a button. It has a five-position automatic rotation that ensures that you never have to adjust the table with your hand.
Can I Get Used Bridge Saws for Sale Near Me?
You can get the Refurbished
2003 Marmoelettromeccanica Bridge Saw in Austin, TX. A used bridge saw is advisable to be purchased only if all its components have been completely replaced with new parts.
The 2003 Marmoelettromeccanica Bridge Saw has been completely refurbished with new motors, wiring, and electrical components. It has auto and manual controls, operates on-air and hydraulics, and has a fully programmable digital touchscreen. It is the best-used bridge saw option available anywhere.
Where Can I Get a New Equipment Warranty After Purchase?
For machines and parts, it is important to be able to purchase at a company that has a warranty. This is to be sure of buying quality equipment.
Bridge Saw has a clear-cut guarantee that can cover up to three years(terms and conditions applies) for new equipment.
Contact BridgeSaw to learn more about us, our machines, and our services. We serve all of the United States, Canada, and Mexico: 877-262-1500
MTE BridgeSaw
8772621500
1301 Continental
Abingdon MD 21009 US